Back to Ideas
Almost one year later, we are happy to report that yes, we did grow. And we are so proud of what we've created.
In the autumn of 2017, we posted a blog about some ambitious growth plans. Our business was at a positive tipping point, and growing the team was the path we chose. Here's a bit of what we wrote.
"We're hiring. And when I say hiring, I mean HIRING!"
We're planning to be almost twice our size by summer 2018, increasing both our innovation designer team and our support roles. This means that we'll go through several rounds of hiring and there is tons of opportunity for interested innovation designers to explore. We're very proud of this place, and we think it's time we let you in on why this place may be just right for you.
Almost one year later, we are happy to report that yes, we did grow. And we are so proud of what we've created.
Our new team
We have a saying here at The Moment: every time we add a new member to our team, we have a new team. Dynamics change, our game is brought to a new level, and opportunities present themselves. So doing that 5 times changed a lot about how we do things. We continue to hire people who challenge us and make us more of what our clients need.
The inspiring and talented new Momenteers who are hard at work in our studio and with our clients are Patrizia Locondro, Kate Hale Wilkes, Karen Oikonen, Robert Hicks, and Clarence Kit Man Tam! The numbers, and the profiles of our Moment team has brought us to a new level of practice and readiness. Our newer and bigger team has brought with them international experiences (Italy, Hong Kong, and Ireland!), a variety of deep multi-sector experience, and that special mix of congruence and difference that makes a Momenteer right for this team.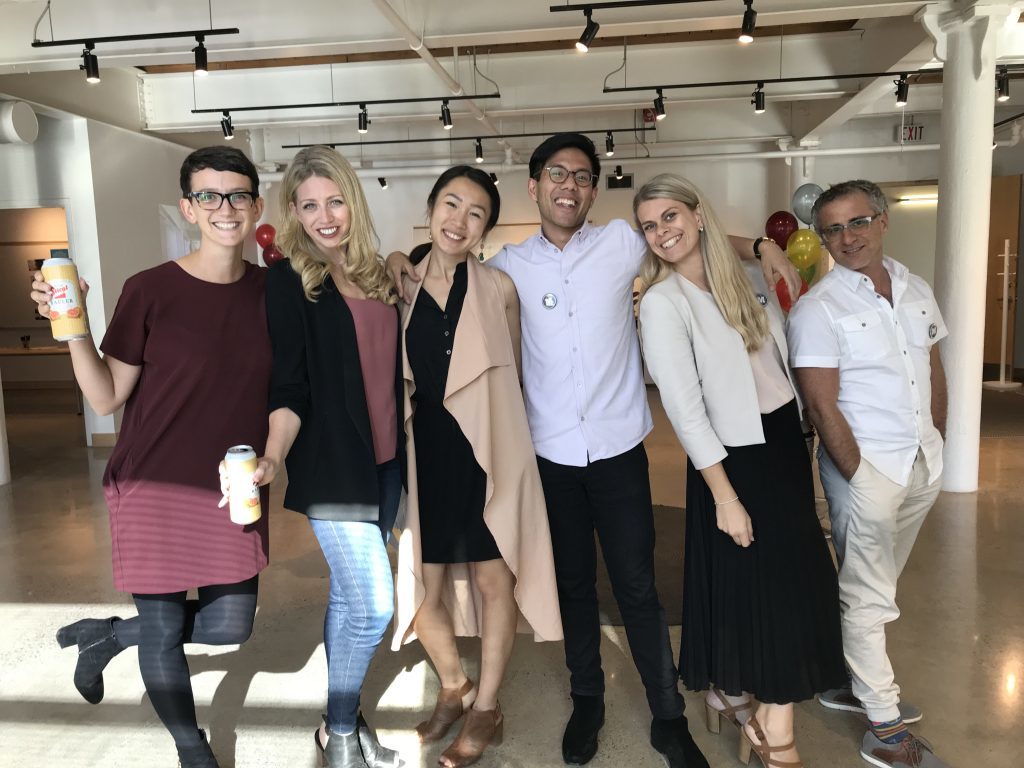 We always knew it would be hard
In typical Moment style, we couldn't write a change blog without telling you a little about the challenges of almost doubling our size over a short period of time. Building a team quickly and decisively poses many challenges, relational and practical. However none seemed to be as large or as taxing as the tensions around governance. With rapid growth, old systems of decision making started to break. Those of you who have been interested in our company development may have read our various pieces on how The Moment is "going teal" (Teal for Real, Teal for Real 2, 50 Shades of Teal). As expected, the narrative continues.
Growing to 15 people pushed our governance practices hard–and we responded by deciding to implement a new governance structure, Holacracy, throughout our organization to foster our purpose-driven business, self-management, and wholeness. Circles and roles have been and are being created to challenge our Momenteers to shift and adjust ways of working and patterns of behaviour — no easy task while our clients and projects continue to grow in complexity and impact. In typical Moment fashion, we're approaching the practices and principles of Holacracy with a Moment flavour, as we are quite determined to learn from those who have gone down this path before us and adjust what we do to make this great.
This blog is a little bit of closing the loop from our declaration to grow last year, and a little bit celebration of the fab folks we have working here. This team (old and new…and yes I just called myself old) have shown great resilience and commitment to this grand experiment we call The Moment. They dove in headfirst, brought their A-game, and kept their cool when it mattered. And here we are at a new starting line, ready to start our next big yearly adventure. If I can say anything about working at The Moment, it's never dull.
The Moment's New HQ
To accommodate our bigger team and our exciting new projects and clients, we have a new studio space. We're now we're at 510 Front Street, West, Toronto (Suite 100), just southwest of our old digs. We absolutely love our new space. To celebrate our new studio, we recently hosted a Studio Warming Party.
Good food, good drink, and great community — that's what we're all about. And that's why we chose to celebrate our growth and our new space with you, the Toronto Innovation and Design community. Thanks for helping us warm the space, and as The Moment continues on this innovation journey, we look forward to connecting with allies in purposeful innovation, and seeing where our paths might cross.