Back to Ideas
What is the role of design, AI, and human capital in the future of work? A recap of The Future of Work(ers) panel discussions, presented by DesignTO + The Moment.
On January 24th 2019, The Moment was proud to support the Future of Work(ers) panel discussions, part of the week-long DesignTO Festival. Moderated by The Moment's Simon Mhanna, the discussion was keenly focused on the people who will be experiencing shifting patterns of work, rather than on just the work itself. Of particular note was the possible impacts of Artificial Intelligence on how people in organizations of every size will engage with the challenges that those organizations face.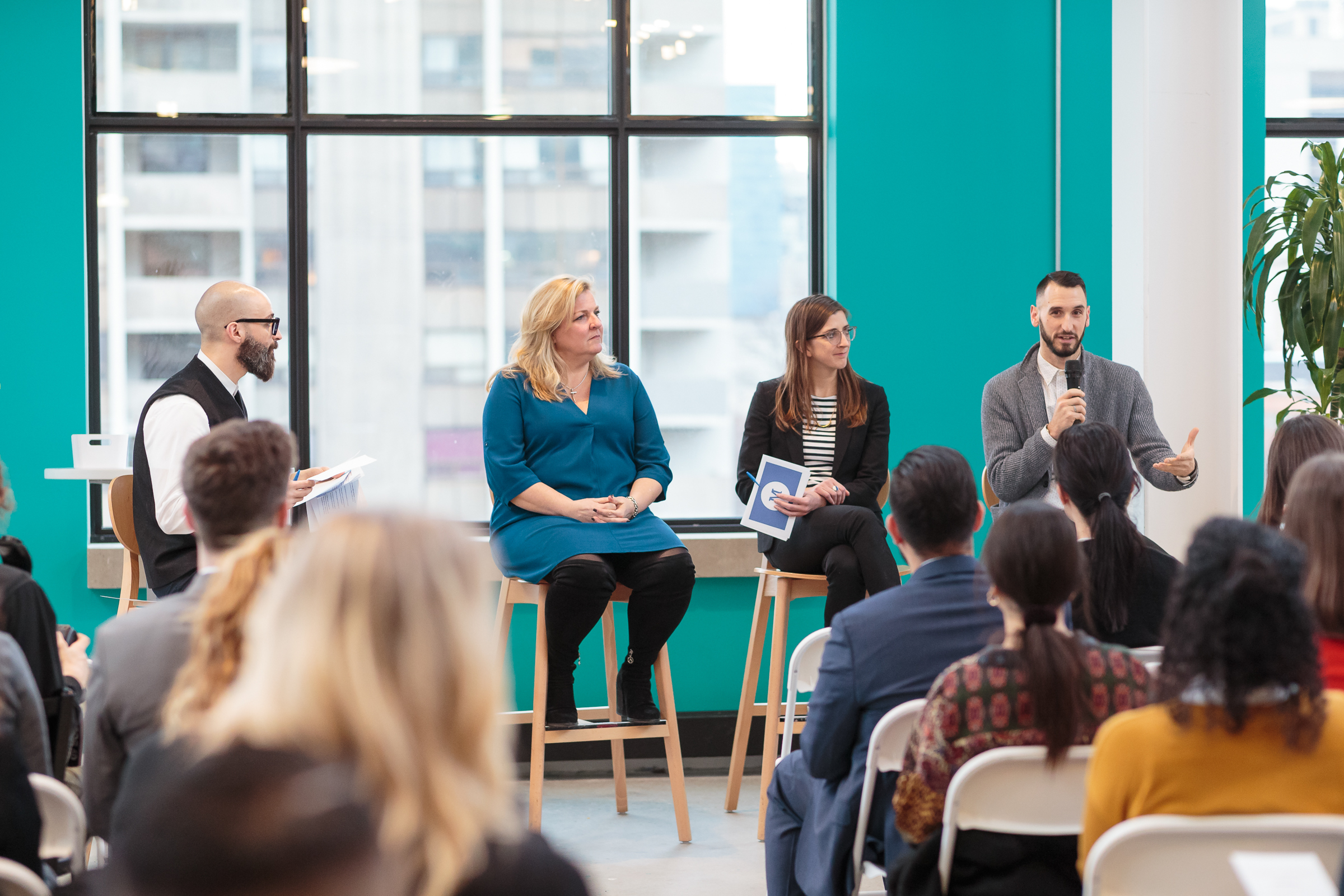 It was an impressive and diverse group, bringing a variety of perspectives, including:
The Moment + The Future of Work.
For the past 2 years, The Moment has had a keen interest in the Future of Work. Last year, we hosted a future of work event and have published a series of posts here, here, and here. We believe and talk about this topic not just because it's an increasingly interesting, complex, and juicy one, but because we ourselves are experimenting with the future of work—both as a holacratic organization, and one that is trying to empower organizations to work better for people. As innovation designers, we believe in open dialogue to support the exploration of new and old ideas, making connections across sectors and industries, and collectively discussing ideas to empower people to find workable solutions now, and in the future.
The Future of Work needs an education revolution.
One major theme that emerged was that the mode of "batch loading" education needs to evolve. The metaphor speaks to the idea that in the not-too-distant future, the current model of going to university/college and learning skills in your late teens/early 20's that then get applied to a lifelong career will be obsolete. Even the idea of doing a major mid-career pivot with a multi-year commitment to a new or post-graduate degree is outdated.
Future learning experiences have to be more informal and much more "just in time" to meet changing conditions. And yes, technology such as AI will "take over" some of the more repetitive operational tasks that people are doing today, but that will free up organizational brain power to tackle higher value work. As a result, employers will have to step up to provide more frequent micro-learning structures and tools to be far more responsive. Higher-ed institutions will be forced to reconsider their value proposition and rethink their systems of credentialing to meet this rapidly changing reality. As a result, systems and structures to enable dynamic and trusted peer-to-peer evaluation will be needed to fill in the gaps where formal degrees (or the lack thereof) won't even begin tell the whole story of someone's capabilities.
While there is tremendous power and potential in the emerging AI space, it is an undetermined future.
Another interesting notion that the panel discussed was the role of Humanities, Social Science, and Liberal Arts in a world that is being perceived as rapidly shifting towards a focus on STEM subjects (Science, Technology, Engineering, and Math.) One provocation was that the perceived gap between STEM and Arts skills is not nearly as great as one might think. Students of The Arts (as a catch-all phrase) develop all kinds of critical thinking skills that are completely relevant to "Science" roles and there is a much greater overlap than many might think despite the perceived difference between a Philosophy degree and a Computer Science degree.
Keeping with the theme of agility and responsiveness, the suggestion was that post-graduate micro learning experiences can easily facilitate the broadening of skills for people trained in the Humanities, to take on challenges such as behavioural economics, data analysis, and programming. In an age where machines will have ever more power, society's collective intelligence can and should be equally balanced towards what we want those machines to do. The discussion about what the AI should do is just as important (if not more so) as what the AI can do.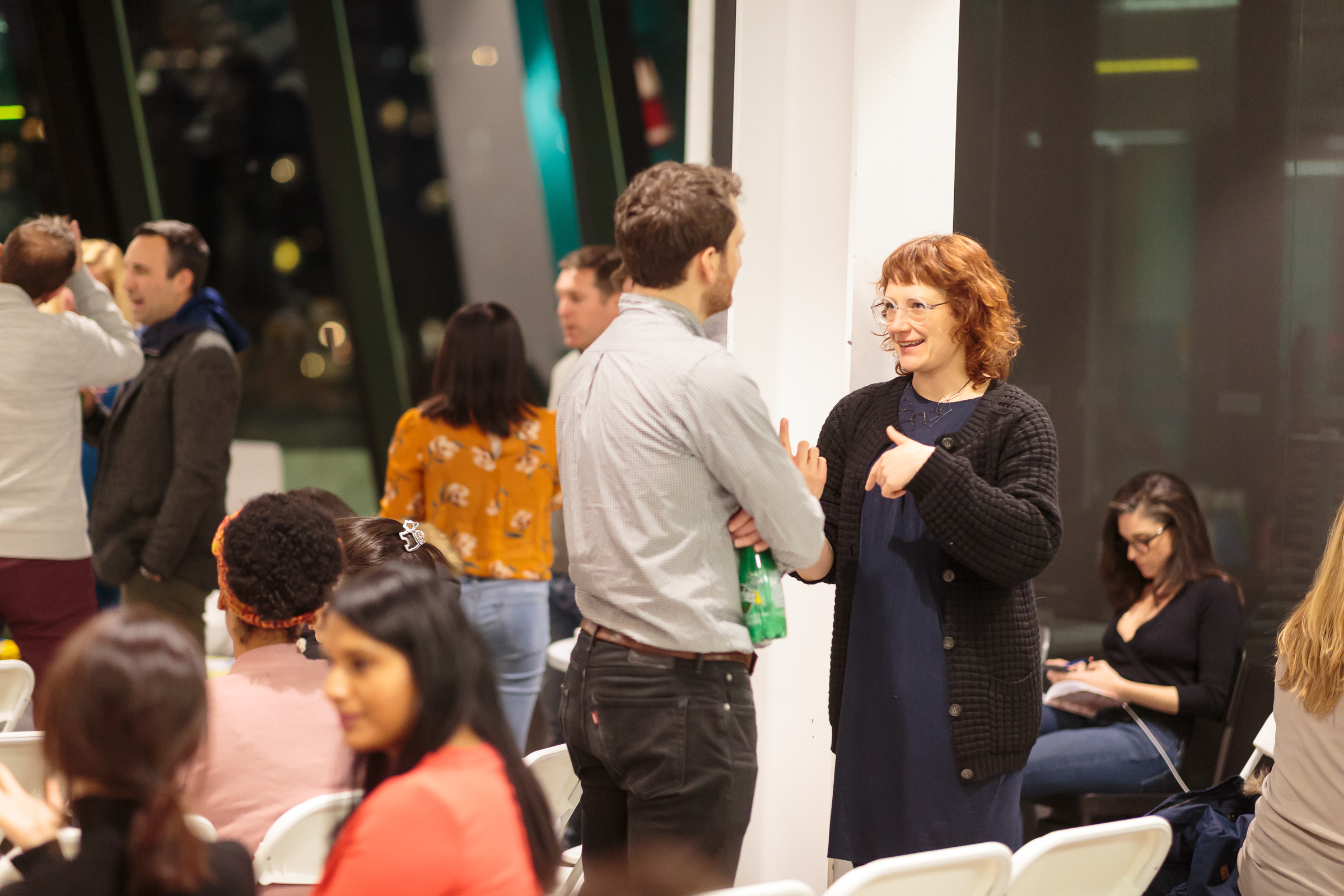 The Future of Work needs designing.
One of the last, and more inspiring, points from the event was from Ahmed Adel at Microsoft who reminded us that while there is tremendous power and potential in the emerging AI space, it is an undetermined future. We have many, many choices ahead of us as people and as organizations. We can shape the future and it is up to all of us to thoughtfully consider the impacts and effects of the choices we make on the humans who are engaging with emerging and rapidly transforming technologies.
The role of human-centered design becomes even more critical as the world of possibility expands exponentially. The Moment's purpose is to bring Human-Centered Design and Innovation Design to the fore as these changes unfold to ensure a thriving future for all.