Back to Ideas
As TIFF's Innovation Partner, The Moment convened Toronto's innovation community to share ideas, learn from one another, and push our collective practice.
Stories help us communicate, connect, and learn. Innovation is all about new ideas, pushing boundaries, and creating value. Innovation and storytelling are a powerful combination and one that we wanted to explore. So, we hosted an event on this very topic — to learn from and discuss the interconnected nature of these two forces.
In connection with our client, the Toronto International Film Festival (TIFF), The Moment hosted over 80 innovators at the TIFF Bell Lightbox to learn from, and share ideas with, others interested in innovation and storytelling. TIFF shares amazing stories with their audience year-round, and they themselves are continuously innovating their services and offerings. What better place to bring these two concepts of storytelling and innovation together than at an institution tackling both?
Hosted in July 2018, the evening saw lightning talks from experts in both storytelling and innovation and gave attendees an opportunity to share dialogue and network. In an effort to continue that conversation, here are some insights from this night, and we invite you to share your own thoughts with the community as well.
Stories that drive innovation are better in person.
We heard from several speakers and guests alike that it's always better to connect in person. Meeting in person allows for more meaningful and deeper dialogue. It also brings a human element into the conversation, as opposed to online conversations, where digital channels can sometimes make it easy to dismiss points of view from your anonymous or faceless counterparts.
Sean Stanleigh, from the Globe and Mail, made exactly this point in both his lightning talk, and in answering questions. As a strategic effort, one of Canada's largest newspapers recognizes the benefits of hosting events and convening community, and they are pursuing an events-based strategy to encourage more face-to-face dialogue in an effort to deepen engagement with readers. Other attendees also agreed; it's almost always more productive and engaging to have conversations in person rather than to hide behind a screen. The lesson? Talking in person goes a long way.
Stories connect us and facilitate fantastic learning opportunities.
Storytelling is a two-way street: it's all about grabbing your audience's attention. It's about listening intently to understand and make sense. We were lucky to host Sage Tyrtle, an expert in storytelling here in Toronto, who walked us through four simple rules to storytelling and how to engage your audience while doing so.
We also felt the gravity of listening to stories, as Erin Kang took us on a journey of connecting new immigrants in Toronto, and enabling them to share their experiences. She underscored the importance of listening, and enabling connections, in storytelling—and she's doing just that with her side hustle, Stories of Ours.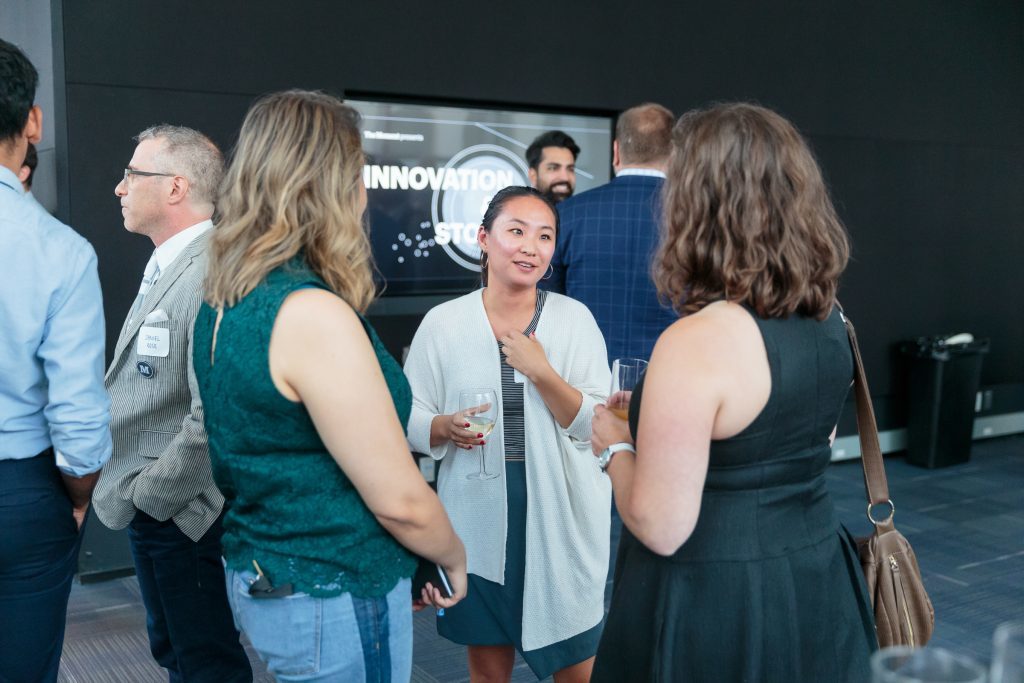 Don't reinvent the wheel; learn from past stories.
Innovation, as a concept, is all about new and fresh perspectives. But sometimes, what we miss when delving into new ideas is learning from past stories. Sandeep Achar from Sun Life Financial took us on a journey throughout the ages, illustrating that despite changing times, stories remain constants — and we should be learning from our past in an effort to improve our future.
And Sandeep makes a great point. If we're not learning, we're not applying. As we iterate and test out new ideas, as a society we can sometimes forget our past mistakes, and therefore what was learned. These applied learnings are critical to success and can save us from following a disastrous path, if only we're willing to talk to others, and listen to their learnings.
Don't use the word innovation.
And finally, on a night centred on innovation, Rachel Noonan from TIFF laid out a technique in plain language: Don't use the word innovation. Why? The term innovation is often viewed with negative connotations and, sometimes, misperceptions. People who work in innovation are excited by the field; others can sometimes see it through a lens of fear. By avoiding the term, and more importantly, adopting language that resonates with your stakeholders, you'll be able to avoid unnecessary resistance.
Supporting Share Her Journey
As part of hosting this event at the Toronto International Film Festival headquarters, we're thrilled that all proceeds from the evening went to support one of TIFF's charity foundations, Share Her Journey.
As an innovation studio, we feel so inspired by Share Her Journey, which seeks to empower female voices both in front of the camera and behind the scenes. Diversity of thought is a powerful contributor to new ideas and better, different experiences, and we're thrilled to be making space for new opportunities that might otherwise not exist.
Those who stayed until the end of the night received vouchers to any TIFF movie over the coming year! Thanks to TIFF for arranging this generous gift. To get notified of future events run by The Moment and receive tips and articles related to improving your innovation practice, make sure to join our newsletter here.