Back to Ideas
A love letter to field research! Why it's important, and how using field research can improve your project outcomes.
Field research is one of those things that gets at the heart of why we are so passionate about Innovation Design – understanding and designing for the humans at the centre of it all. Personally, I'm always eager to get into the field and observe people first hand, because each and every time I see things in new ways, new kinds of connections are made, and exciting idea spaces start to emerge.
When we get to know our clients' customers at a deeper level, we can connect the business desires and goals to design relevant, meaningful, and valuable services, products, and experiences.
But, how exactly are you supposed to do that?
Enter: Field research
There are a myriad of ways to uncover the needs of your customers. With so many options, how do you know which path is best to pursue? As Innovation Designers, we work with our clients to navigate the many possibilities and design a research program together that will best support our goals. We often host and facilitate customer workshops, research sessions, or go out into the field, all to help us bring shape to questions like:
What does the customer really want?
What are they thinking?
How can we better support them on their journey?
There are different ways to approach this kind of customer research. Sometimes our workshop sessions are more exploratory in nature and happen earlier on in the design process. Employing research early in a project gives us the chance to unpack and reflect on people's previous experiences.
Other times we host customer sessions at later stages in the design process, when things are more clear and beginning to take shape. These are perfect opportunities to speak with customers and validate concepts or fine tune details that might otherwise get overlooked. Bringing a research lens later in a project is also a great chance to encourage our clients to bring shape to their own ideas, inspiring our own design process.
Listening and observing can go a long way
Customer workshops are a great opportunity to hear what your customers and potential customers have to say. It's even a great opportunity to let your customers – the ones experiencing your services and buying your products – generate new ideas! But sometimes we need to uncover deeper reasons behind what people say. Field research is all about observing the lived experiences of real people and uncovering their actions, habits, and tendencies as they come to life in real time, in real situations.
When a project needs to get to know the underlying values, behaviours, and interactions of an experience, we're able to draw from ethnographic and qualitative design research methods. This can include contextual semi-structured interviews, observation, film documentaries, and shadowing people, to name a few. We use this field research approach to inform our design process and to ground our outcomes in human needs and behaviours (i.e. human-centered design.)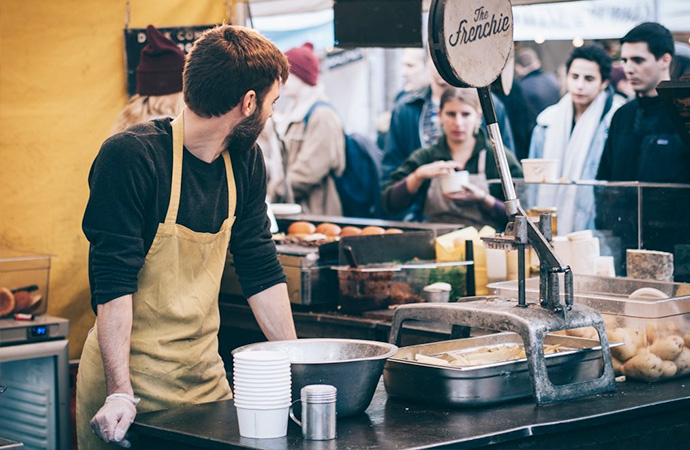 A love letter to field research
Here are a few reasons why I believe field research is so important within the design process, and how using field research can improve your project outcomes:
It allows you to get a deeper understanding of the people that you are interested in designing for; if you don't understand your target audience, why are you doing this, anyway?
It helps you to both identify and reframe problems (or, if you look at it as glass half full – to reframe opportunities!) in human terms. Without this people-centered lens, you could be missing out on key or unexpected opportunities for innovation.
It gives you a chance to uncover new opportunities and ways of thinking; you don't come armed with any hypotheses to necessarily test; which means it's all about removing your bias and being open to everything.
It allows you to understand emerging goals, cultures, challenges, motivations, and themes of the people closely connected to the project. By observing customers up close, you can often reveal themes or ideas that you wouldn't uncover in a more isolated environment.
You get the chance to look at people across a journey or throughout an organizational system, in order to see how the system is expressed through their experience. This gives you a unique vantage point that others often don't get to witness.
You get to uncover knowledge in the field that subjects might never think to articulate in more closed settings, such as in an interview.
It's the best way to notice a lot of the little things, that often have the biggest impacts.
And of course, you will get insights at a much more human level, which helps find unexpected opportunities for innovation!
What's not to love? Field research is a strong foundation and an essential tool in any designer's tool box to getting at the core of a challenge. We love field research because it brings us closer to the humans at the centre of it all.
Mostly, we love field research because we can use what we see and hear to inspire new ideas that are relevant and valuable to people that we might not have otherwise encountered – and isn't that the best outcome of all?
If you're looking for tips, ideas, or just want to talk about what your experience might look like, I'm always happy to hear your thoughts! Feel free to get in touch or learn more about our innovation design work here.