Back to Ideas
Explore six factors that affect the practice of innovation design—and find out how to avoid the pitfalls.
Innovation is more than a technology stack or a new idea; it's a framework and a model to build a robust and competitive business. Many business leaders and project owners, including service designers and product developers, are taking on complex innovation challenges that cut across internal silos and customer touch points. This work can be immensely challenging. What contributes to the challenges we so often experience of mismatched expectations, unmet goals, blown budgets, and wasted time?
Anticipate the pitfalls by arming yourself with the knowledge and tools to start—and continue—innovation work with eyes wide open. This article explores six (of many!) factors that contribute to the challenges of innovation design with cross-functional teams, and outlines the implications for the practice of innovation design so you can avoid the trappings and get to the work that matters.
Innovation is a discipline, not a directive.
We must develop the craft of innovation design through practice, practice, and more practice.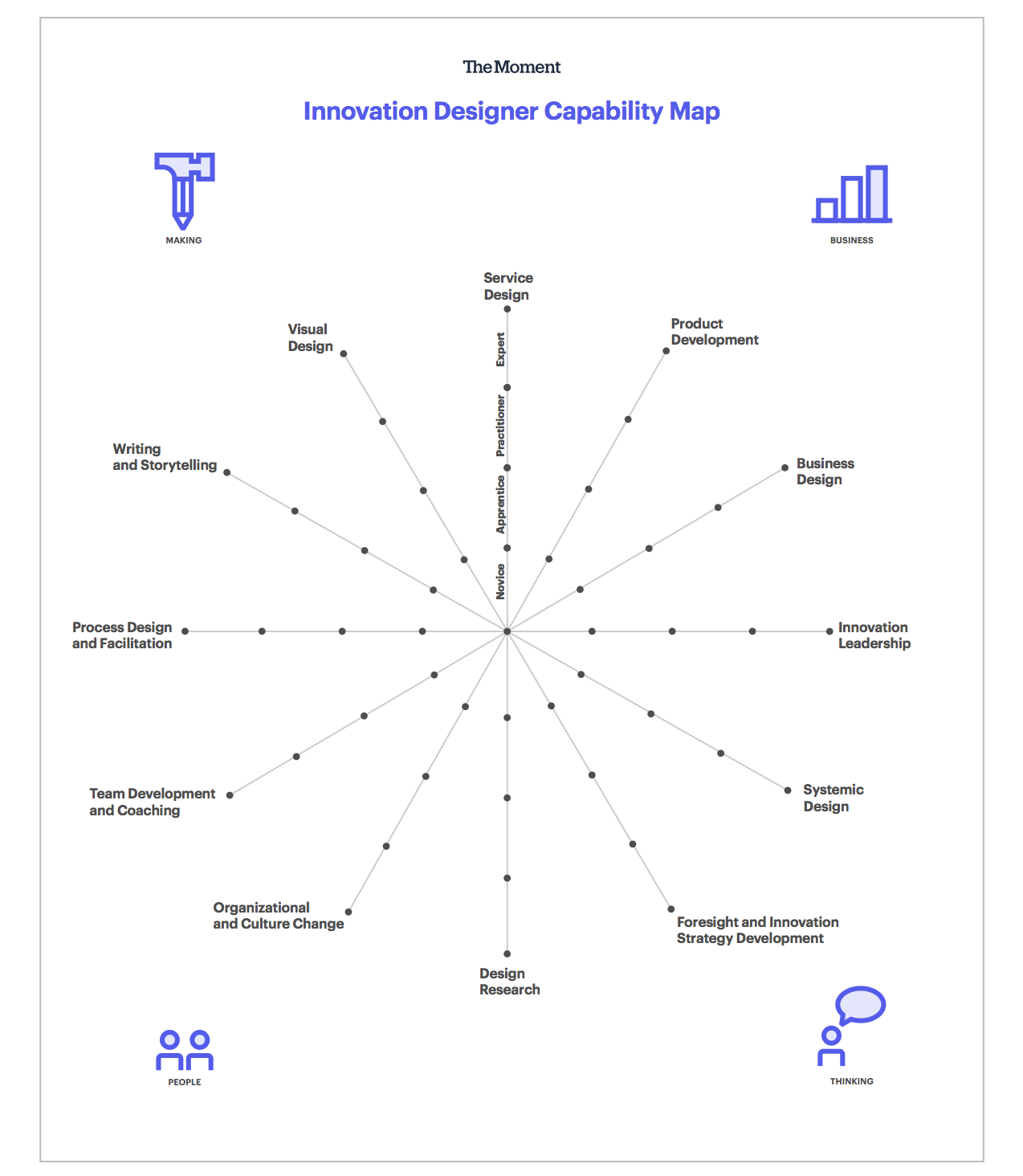 There is no shortcut to learning how to be insight-driven, to structure work around ambiguous problems and outcomes, to iterate through cycles of continuous testing and refinement, and to engage others effectively along this bumpy ride.
Teams must be equipped with tools and a structured approach to capability development. Leaders must better understand where their expertise becomes a barrier rather than an enabler of innovation efforts. Innovation designers will need runway and resources to focus on both delivery and ongoing learning. The Innovation Designer Capability Map helps you and your team visualize the skills you have—and where you're lacking—to build the right capabilities to tackle the work of innovation.
The past no longer predicts the future.
We must be insight-driven rather than solution-driven.
Decisions are traditionally made by senior people with lots of experience. This worked very well in a context where outcomes were predictable based on past experience. But the reality today is that the market and technology context is changing so quickly that past patterns no longer give insight into future results.
The key skill for any organization, or team, to acquire is the ability to drive continuous leaning so that decisions can be made based on real insights, and not on assumptions.
We can't control everything we're designing for.
We must design for systems of interconnected touchpoints over diverse channels in a context of rapid change.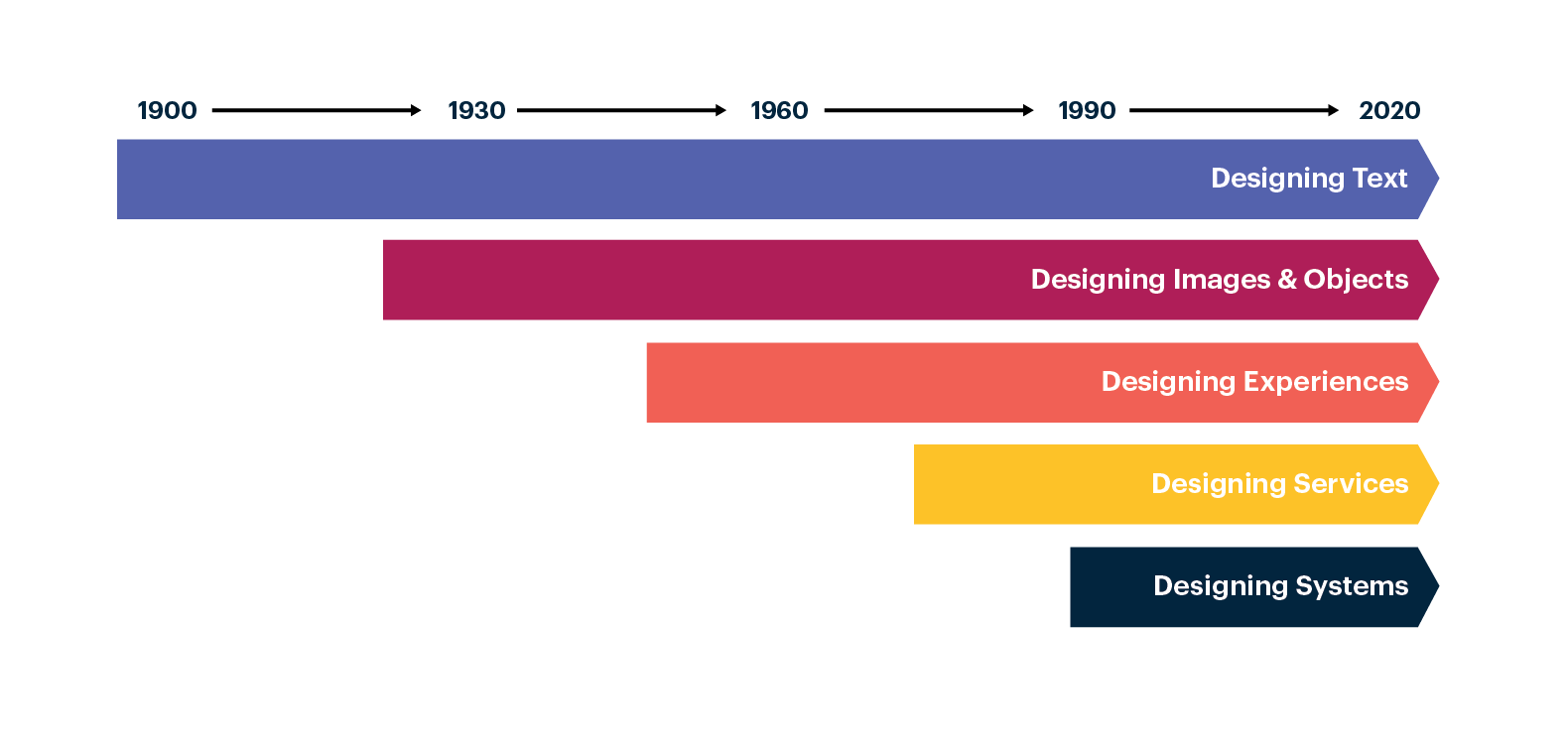 Historically, designers have focused on narrowly framed applications—text, images, brands, experiences. Over time, these media have layered upon each other so that we must now consider multiple dimensions of an experience across a system of channels and media—many of which we can't directly control due to technology or structural constraints. Additionally, the range of challenges we're tackling exist at different levels—from strategy to stakeholdering to service system mapping to user experience and beyond.
Organizations must develop and manage a portfolio of innovation initiatives that strike the right balance between near-term and longer-term benefit. Prioritizing and resourcing the right initiatives at the right time (and not just implementing pet projects or assumption-based solutions) is the magic of this strategic practice.
We have to satisfy clashing needs and mindsets.
We must design to satisfy the diverse needs of our customers, our colleagues and executive leadership, our shareholders (and ourselves!)
The reality is that often what's best for the customer doesn't neatly align with what's best for the business. And what's best for the customer, or the business, can't always be feasibly implemented. Designers are often brilliant at leveraging tools and devising solutions that enhance the experience of the end-user — focusing on desirability. Business stakeholders are accountable for near-medium term profit, and technology stakeholders are managing an already full backlog with overstretched resources.
Innovation teams need to engage diverse stakeholders and frame opportunities and decisions in terms that resonate with their needs directly. We can't just be the voice of the customer, we must make solutions practical and profitable.
We must create downstream impact and value (not just great ideas.)
We must translate insights and concepts into measurable in-market value.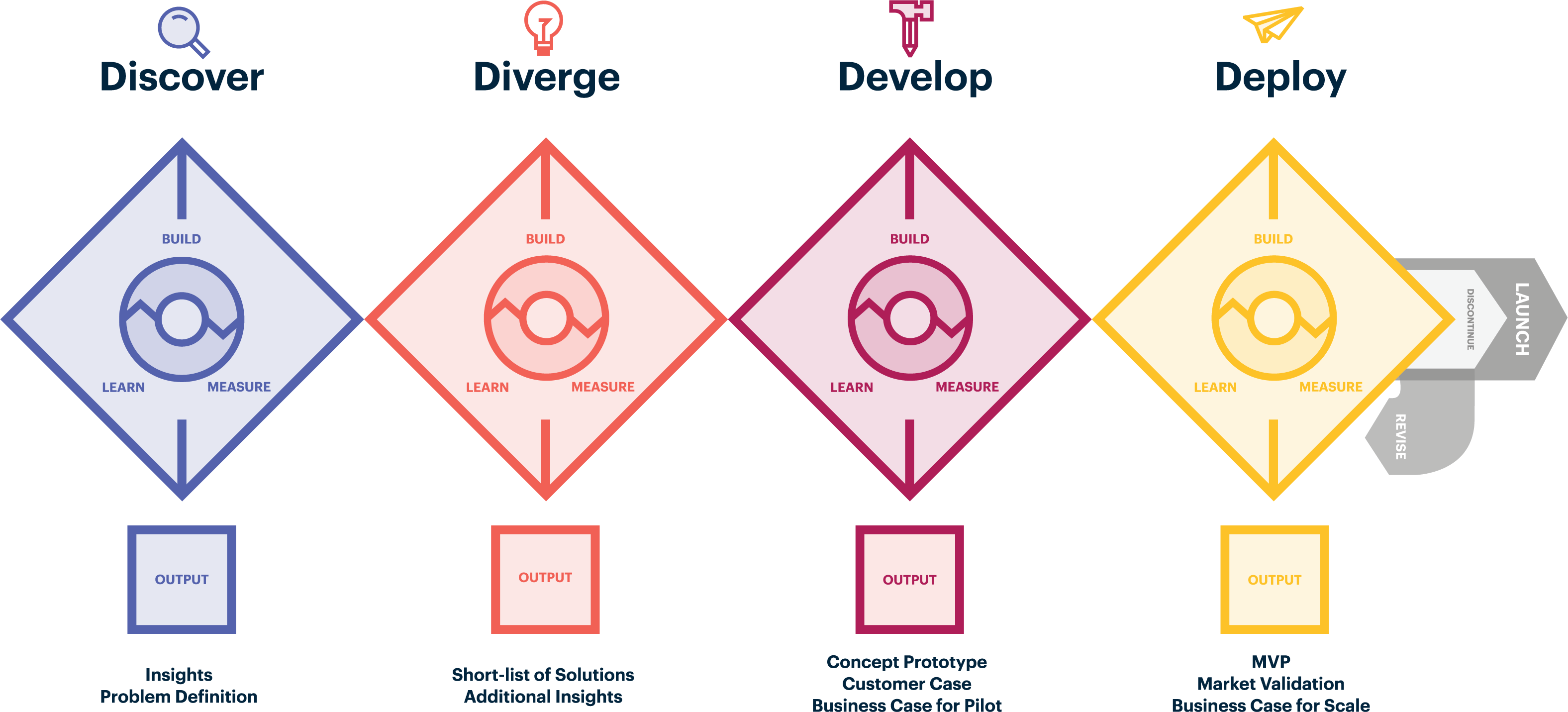 It is important but insufficient to come up with inspiring ideas, journey maps, blueprints, and insight reports. Innovation design's value is in the downstream impact to the organization's customers and business. To maintain the credibility of peers and executive sponsors (and customers), innovation design teams must operate across the full spectrum of the process from insights through to ideation, prototyping and implementation.
Many diverse skills must be integrated artfully along the way, from research to facilitation, to visual design, to business design, and into implementation. Innovation design team leaders must find creative ways of ensuring that their teams have the right talent to cover this breadth of capabilities. This need to find and retain unicorn and specialist designers with sufficient real project experience is one of the biggest current challenges for team leaders.
We must seek purpose to drive meaning into our work, services, and brand.
We must nurture the strategic alignment of teams, customers and brands to a purpose greater than themselves.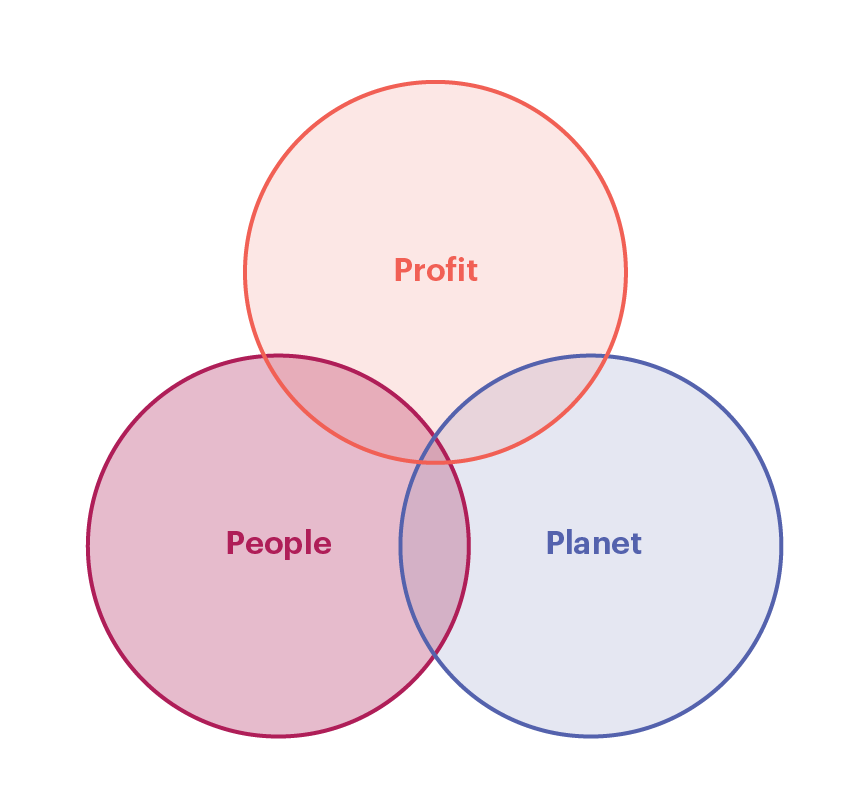 It is vital that innovation design drives value to the business. But as innovation is an on-going journey and not an end-state, the backlog never ends. In this context, team members can become fatigued by the churn and lose their energy and inspiration when stuck on the hamster wheel of never ending projects.
To maintain energy behind innovation work, it is essential that teams feel motivated by a sense of purpose and personal meaning. This could be to create a more humane work environment, to create services that work better for people, to help their communities and families thrive. The impact of this authentic connection to the work radiates out and is felt by customer and colleagues—driving business and brand value while leading to increased talent retention and project success.
How have these challenges shown up in your organization?
These challenges define the working context of our time, and organizations must develop the innovation design capability to work effectively and thrive in this context.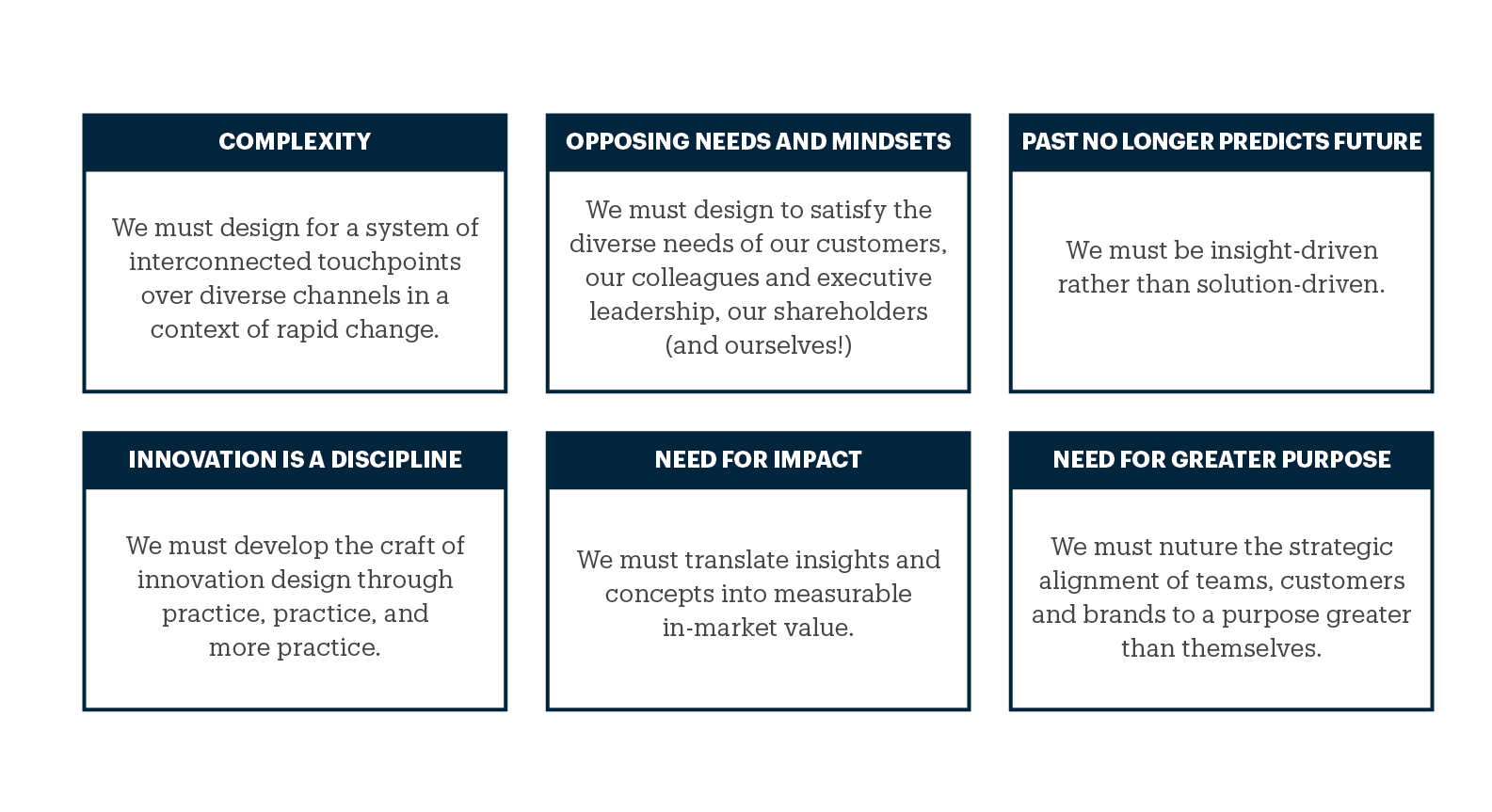 How have these challenges shown up for you?
What else has shown up?
What should we do about it?
We'd love to hear from you! You can share comments with us on twitter or join our innovation community to connect with us and other innovation practitioners to learn and succeed with the challenges of human-centered, cross-functional innovation design.