Back to Ideas
Take a look inside The Moment's hiring process and find tips to build an amazing portfolio
As an Innovation Design Studio, it probably comes as no surprise that we have innovated our own hiring process that takes a human-centered approach. I have been closely involved in designing the hiring process and actively joining forces with my colleagues to deliver on a hiring experience that meets the needs of the candidates and caters to the needs of the business and our culture.
With our candidates' experience in mind, we have created a thoughtful, design-led process that has evolved and become more robust over time—one that helps to highlight the skills and qualities that we think make for an amazing Momenteer.
Read on to find out more about how we hire, what the process looks like, and discover tips to put your best foot forward.
A Sneak-peek into the process.
The Innovation Designer Capability Map.
The Moment has created and built a practice around Innovation Design. We deliver a series of projects with and for clients based on the twelve competencies of Innovation Design, and we do so in a model we call the Joined Up team.
Several years ago, I developed a tool called the Innovation Designer Capability Map in collaboration with some of my esteemed colleagues as a way to help us map our skills across this emerging discipline and bring clarity to the needs and benefits of the practice. It has proved immensely useful as a tool both for mapping our own individual skills, and mapping the team as a whole to visualize our strengths and weaknesses across a spectrum of capabilities.
The tool is a simple visualization that enables candidates to reflect on their skills and share their personal assessment of their level of expertise on 12 capabilities that we grouped in 4 main buckets:
People
Making
Business
Thinking
We are delighted to see how candidates use the tool, even in ways we never expect! We therefore use this tool as a resource when hiring as a way to map candidates' skills – both as individuals, and how they will complement or fill current gaps on our team. Take a look at the Innovation Designer Capability Map and see where your skills stack up.
Assessment and evaluation.
Another outcome from this collaboration is the assessment system and evaluation rubrics. Having more than 10 years of experience in the academic field under my belt, I could say I have become a rubrics advocate. Not only does the use of rubrics elevate the assessment and evaluation process, it brings rigour, thoroughness, and most importantly, a means to substantially reduce biases and personal subjectivity. With a robust rubrics system in place, our hiring team has grounds for better discussion, deliberation and decision making when it comes to the selection of candidates at different stages.
These rubrics also became the starting point for our compensation model. So not only are they used to evaluate candidates and new Momenteers, we use them for our internal team feedback and self evaluations that determine our salaries as part of our transparent self-set compensation model. Stay tuned for more information about our self-set compensation model, but just know that these rubrics are providing value within a variety of functions and we're glad to have them as an evaluation and self-assessment tool at The Moment.
The Hiring process.
As a candidate who may invest time into preparing an application at The Moment, we wanted to share with you a bit about the process and how things will work. The process itself is multi-staged.
Stage 1: We review the initial applications on a rolling basis up until the application deadline.
Stage 2: We then screen selected candidates over a video call to understand background, qualifications, fit, and interest
Stage 3: Selected candidates are then invited to participate in an in-depth interview that will take place at The Moment's studio downtown Toronto
Stage 4: Before the hiring team makes a final selection for the role, we invite the selected candidates to join some Momenteers in a working session. You'll receive a small homework assignment ahead of time and together we'll get a sense of how we collaborate and actually work together.
Stage 5: After the chosen candidate has been selected, we then work with the successful candidate(s) to determine their salary based on our compensation model.
Each of the stages outlined has its own unique format and review forms. We also make sure to have at least 2 Momenteers present throughout each hiring stage to help ensure a diversity of perspectives and to build a rapport between the candidate and a variety of people at The Moment before the final hiring. This works in the candidate's benefit too; you get to meet many faces from our team, and get a sense of what it's like to work with us before accepting your new role.
Throughout the process we put an emphasis on qualifying skills, but also fit: we want to get to know the candidates—our potential new team members—to help them get accustomed to The Moment's culture, team dynamics, and governance model.
Useful tips for applicants.
Over the last couple years, I have been involved in hiring new Momenteers onto the team. Based on my experience, I have put together some notes on how to help future candidates put their best foot forward. Take a look and integrate what you find to be useful – for The Moment, or any other career path you may be on.
Your experience: Nothing beats a good story.
Practitioners come into the innovation space from different backgrounds and experiences. Successful Innovation Designers are multidisciplinary. They have depth of expertise in one or more competencies with some cross-functional awareness or a developing edge in others. Being able to speak the language of business and design, products or services and technology, or culture and change is a unique combination of capabilities that enables the Innovation Designer to play a strategic role in complex projects where many stakeholders are involved.
Describe where you come from and how your previous experiences connect to the field. What's your perspective on innovation, your experience so far, and how do you fit in? Although this may be straightforward for some candidates coming from a multidisciplinary program or role, it is more challenging for others who come from a specific industry or specialized background. Describe how your background will help you excel in your chosen role and branch out into the complex space of innovation work more broadly.
Think about your experience in the innovation industry but also your point of view and approach to tackle innovation challenges. How do you define innovation? Why does it matter? Weaving together compelling stories that highlight your unique experiences is one of the qualities that will help your application stand out.
Your portfolio: Don't leave us hanging, leave us wanting more.
Along with your cover letter and resume, The Moment specifically requests a professional portfolio. You can supplement the PDF version with a webpage, slidedeck, or other medium of your choosing that showcases some of your best work relevant to the position.
So what does a good portfolio look like? Yes, we want to see your best projects. But the key aspect lies in clearly and assuredly speaking to these projects, and articulating why they are important.
Furthermore, ensure that the projects you include are well curated for the company you're applying to and are relevant to the job. Include examples that you are most proud of. For these projects we would certainly be interested in learning about the solutions or final design, but not solely. Present the project brief, the key challenge, and the process that led you to the solution.
In describing the process of your work, we specifically look for the tools and methods used, the learnings and insights you gathered, and the collaboration moments and relationships formed along the way. In the solution presented we will be looking at the quality of outcomes as well as the artifacts developed for the project, and of course, look at the impact achieved (or aimed for) on the business and people level. Here are some specifics we are looking for in each project example you share:
Results: For every design challenge there is an outcome, it doesn't matter what form it takes: a product or service, a strategy, or a set of recommendations, are just a few examples. Make sure to showcase the results you achieved in a compelling way.
Roles: The nature of this work is collaborative most of the time. That said, it is always a good idea to share what role(s) you played, and what aspects or areas of focus you took on in each example.
Learnings: We will be looking to see what muscles you have flexed and what skills you have demonstrated throughout each project example. What did you learn and how did you push your practice?
Your leadership: Roll up those sleeves.
Our governance model and project team structures promote a form of dynamic and self-aware leadership. We don't believe in static and traditional hierarchical leadership models. We have designed a self-managing organization where the roles we play in client projects and internally are adaptable. Roles we step in and out of shift and change based on the specific needs of the business and team, using holacracy models and agile approaches.
This form of leadership may be something you have experienced, or not. It doesn't matter. What really counts is your level of readiness and the values you bring into it.
Employers look to see the qualities you have developed as a leader. What are the strategies and tools you have gathered along the way to continuously self-reflect and connect with others? How do you understand the unique strengths (and weaknesses) of both yourself and your teammates? How can you step into leadership, and contribute in effective and thoughtful ways?
Your purpose: Bring your A-game.
The Moment has successfully designed a service offering and nurtured a workplace culture that are both human-first. We care about our people and the people we work with. We have attracted a skillful, empathetic, and very passionate team. Our Momenteers deliver great value in projects and impact to our clients while pushing their practice and embracing their wholeness and humanity.
We rally around a common purpose. We believe in a future where people can thrive. We actively shape organizations where the needs of people become the priority.
We want to know: what is your purpose? To get a sense of what we mean by 'purpose', take a look at a useful resource called the ikigai. It's a frame to help to establish and seek common ground on what you love, what you're good at, what you can be paid for, and what the world needs.
An application for a job is a moment to shine so don't shy away from putting your personality forward. We care to learn about the people who express interest in joining us. We want to understand your vision and how you envision achieving your purpose alongside us.
We will be looking to know what gets you out of bed everyday… What drives you and enables you to do your best work?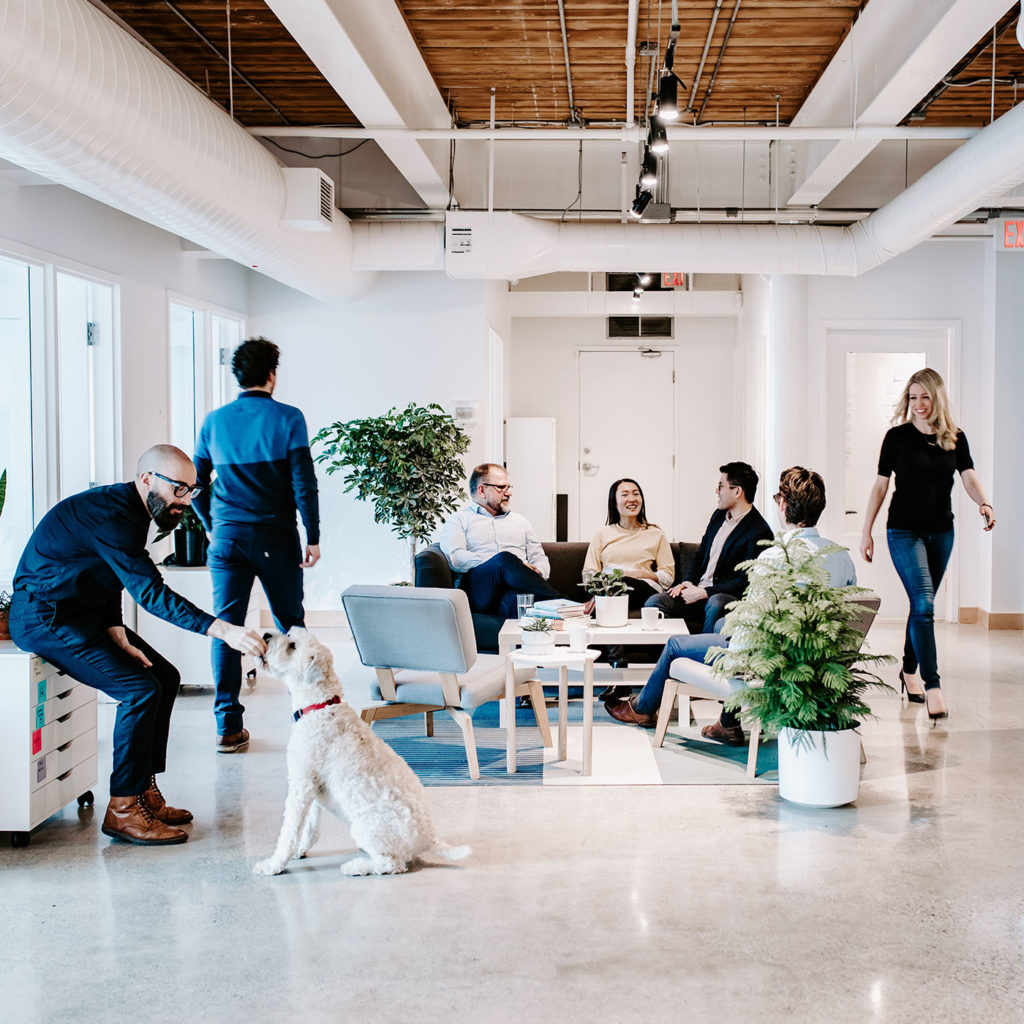 Good Luck! We're rooting for you.
Beyond the work we do for our clients and the purpose we rally around to deliver our services, we make time for internal experiments and we are passionate about our governance and culture.
We have a mighty, resilient team committed to embracing change and continuously pushing our boundaries through experimentation. We learn through doing and have a bias to action. We work closely with our allies and community to enact the change we want to see in the world.
Tell us: How are you looking to create an impact in the world and how might we partner together?
The Moment is currently hiring for 1 position:
Innovation Designer, contract — Apply ongoing