Back to Ideas
Since opening in 2011, our organizational model has continuously evolved. After examining the pain points found in traditional workplace environments, we embraced holacracy in an effort to empower our people to pursue their purpose.
Last month, we were profiled by Rotman Magazine. In the article, "From Hierarchy to Holacracy", the spotlight rested on how our team has adapted from a "founder led hierarchy" to a codified system of self-management where everyone is empowered to make key decisions on how the business is run.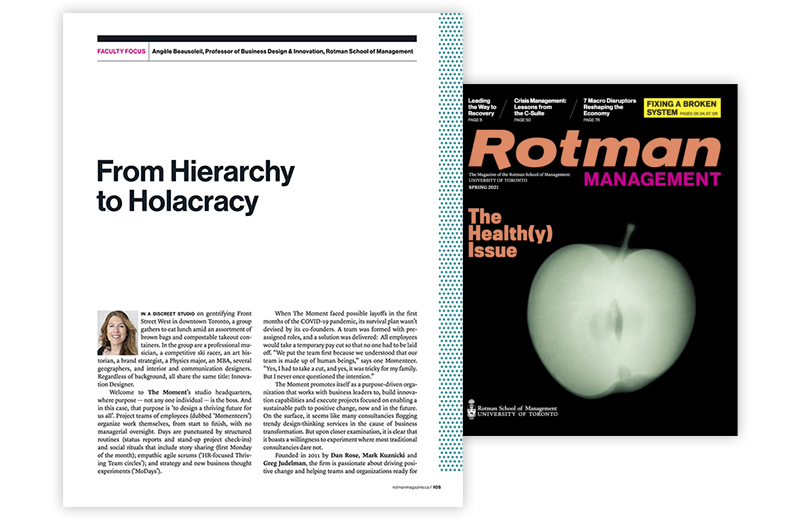 As a self-managing organization, our team has multiple people that influence and impact how we operate. While holacracy has been described as "leaderless management", it is actually quite the opposite. Self-managing organizations demand leadership in multiple ways, in multiple flavours, in order to operate well. While this organizational design does not come without its challenges, it's been a rewarding and fulfilling model to operate under. 
Here's what three Momenteers had to share about their experiences with leadership in a self-managing organization:
—
Carolynn Burns: Financial Operations Manager
Carolynn understands that the best work happens when folks are connected & committed to purpose. Carolynn energizes the team to measure outcomes, returns and impacts toward our strategic goals, helping us to see our progress towards a future of our design.
"One aspect of self-management that I've really benefited from is the accelerated career growth it has allowed me to achieve. After our shift to holacracy, I noticed roles in the company that needed filling, particularly around strategic finance activities. I was incredibly energized to take them on and advocated for myself by telling my team why I was well-equipped to fill them.
Since then, my role has grown immensely and my ability to impact that senior leadership team with my work has also expanded. Self-management opened the door for me to lean in the way that was right for me. I expressed to my team where I felt I could create value and they gave me the opportunity and the space I needed to do just that."
—
Julie Sommerfreund: Lead Link
Julie pairs her belief in human-centred design, systemic design and strong interest in solving complex societal challenges seamlessly at The Moment. In doing so, she believes we can take the driver's seat to shape the future we want to see.
"Before I began my journey with The Moment, I was at an organization where I was underutilized and quickly heading towards apathy. Decisions related to my work were not up to me, and although I was hired for a host of great skills, I never got to use them.
Self-management in a role based company has allowed me to build capability in a variety of areas. I've led talent, resourcing, and strategic design, and I've also designed internal processes that I wouldn't have had the opportunity to create had I been working in a conventional hierarchal organization.
At The Moment, because of self management, I've never had to wait for someone else to tell me my path. In a standard job, you'll often have an authority figure whose approval you need to seek for your approach to projects. In our business, we focus on what outcomes we want to achieve and rely on the expertise of our team to develop their own strategies for how they wish to achieve it. Every team member has authority over decisions in their domains. This cultivates a trust that isn't often granted in typical office settings and it allows people to build confidence in their decision making skills due to the amount of important decisions they get to make each week."
—
Karen Oikonen: Innovation Designer
Karen's commitment to exploring the human experience allows her to instigate meaningful change in her work as a human-centred innovation designer. She embraces participatory practices and thoughtful discourse, as both promote fertile ground for a boundary pushing design practice.
"In a self-managed organization, we're all asked to be leaders. For me, this requires self-reflection, self-awareness, bravery, and trust in the process, the people, and myself. In order to do my job to the best of my ability, I need to ask for what I need, identify areas of interest for my personal development, and raise my hand for roles I want to stretch into.
I really enjoy that I'm not merely responsible for my roles, but also for the purpose of the organization as a whole. That's very motivating, and inspires me to fully engage with my roles as well as support the people around me in how they fill their roles, while also seeing them as humans and not just colleagues. This human-centred piece gives us the foundational trust we need for the organization to run smoothly, because everyone is given the space to do their job in the way they believe is most effective."
—
Holacracy+Teal=Culture
Some Organizational Design commentators have suggested that holacracy is "soulless", ie. it is very mechanical and doesn't leave space for the personalities and human beings in the organization. This is true. Holacracy provides a set of rules and structures, but doesn't speak to how team members behave within that set of rules. And this is where the thinking from Frederic Laloux's Reinventing Organizations comes in. How we are together as a team, what expectations we have of each other, how we express our values…all of that is separate, but related to Holacracy.
You can delve more into the thinking behind our operational evolution in our article Fifty Shades of Teal and the one and only Shade of Holacracy.